ARCODE The Optimum Services Worldwide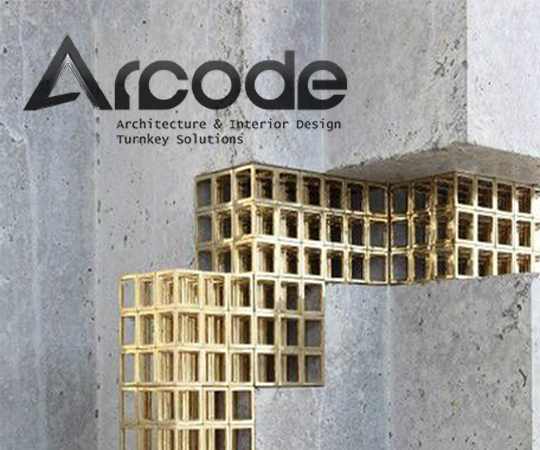 ARCODE Services –The Optimum Services Worldwide
Creating a wide space of beauty of high-quality services -exceeding all the expectations- demands creativity, innovation and proficiency. On the other hand, it needs up-to-date service systems to be always ranked first. The field of architecture and interior design is very important and pivotal for it is directly connected to people's vitality inside and outside the buildings they live in or visit.
ARCODE is one of the most modern efficient companies of Architecture, Interior Design & Fit out, and Turnkey Solutions all over the UAE and the Middle East. We, in Arcode, highly believe that super performance and progress of human beings is linked to how intelligently their environment of workplace, housing and entertaining is built and designed as a constant motivator.
In order to provide our clients with the best services, we offer the service very simply but professionally.
Mentioning our services, we can firstly talk about Architecture in ARCODE. As known, the mission of an architect everywhere is to implement a life on a given site, concerning not only the client but also the future occupants and neighbors of the building. ARCODE's architects are well trained to harness the construction kits and conditions of buildings' environment until making the clients and other people around the site of our projects fully satisfied.
Secondly, the Interior Design in ARCODE. Designing the interior of a building is not a simple matter of customizing materials to some decorations or such a matter of only painting and organizing. Indeed, the interior design is about telling a story, delivering a message, or even reflecting a soul. Therefore, ARCODE, with its genius designers, enriches the interior soul of the place making it tells the whole beautiful story.
Thirdly, ARCODE's Landscaping. Nowadays, landscaping is a modern rush and a lovely detail that activates the spirit of a place. ARCODE, by the wisdom of its experts in power solutions and youthful innovation it has, can offer unique designs for such kinds of works. For instance, having innovating solutions for projects like the water management or the ecological management.
Moving to Design & Build Projects; the fourth service ARCODE offers. Creating intergenerational spaces is about making them less static and more feasible. ARCODE's team is ready to turn your space into another dimension of beauty. Designing in ARCODE makes your place feels perfect and coordinated, and runs your project as a professional organization on behalf of you.
Five, here we are with the Site Supervision service. ARCODE's team follows, minute by minute, the steps of construction operation. There are regular visits to control and supervise the projects to be implemented in line with the agreed design's plans. This service is for keeping in touch with clients and let them completely informed by the implementing progress details. Additionally, for protecting clients from facing problems of defects or deficiencies in the construction.
Finally, the sixth service, Budgeting & Feasibility Studies. ARCODE provides valuable engineering services of cost effective solutions, cost management, cost control and profitability analysis, in addition to design review and the third party checking. It is just a simple matter of controlling your budget by very modern and clever operator, what will surely make you more reassured.
Briefly, we in ARCODE work hard to build a unique edifice and design it majestically to be a luxurious masterwork then offer it with passion and love.